About Define Personal Training
Meet Clayton and Learn More About Define Personal Training
Define Personal Training was set up to implement a versatile selection of services from within the personal training industry.
The company was set up to free the mind of any uncertainties of the sports and leisure industry. We maintain this understanding from offering a wide range of environments from home fitness plans through to working in a intense club environment.
The services we specialise in, are, to name a few personal training, weight loss, nutrition, body building and specialist event training. If the personal services are not required we also offer group sessions. A reflection of this is our popular bootcamp that we run in a relaxed environment around the local parks.
We also have the necessary requirements to advise on weight loss and nutrition plans to enhance performance and general wellbeing.
Book Your FREE Assessment Today
For more information, call Clayton direct on 07592 884575 or click the button below for a personal, one-to-one, fitness assessment.
Click to Book Your Assesment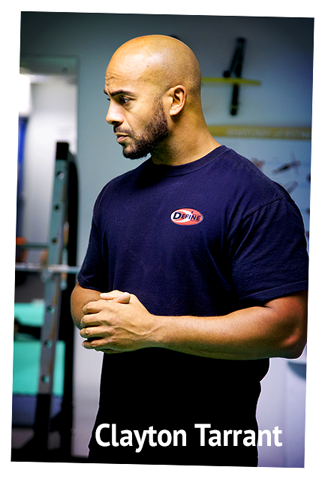 Qualifications and Expertise
Active IQ Level 2 Certificate In Fitness Instruction (QCF) (Gym)
This qualification provides the knowledge and skills to enable learners to plan, deliver and evaluate safe and effective sessions. This qualification will provide entry onto the Register of Exercise Professionals at Level 2 and can be achieved in the context of gym, exercise to music, water-based exercise and physical activity for children.
Active IQ Level 3 Certificate In Personal Training (QCF) (Gym)
This qualification gives learners the knowledge and skills to work with individual and groups of client in a personal training setting. Successful achievement of the qualification will allow the learner to gain employment within an organisational setting, or alternatively in a self-employed environment.
Serious Fitness Boxing Instructor
Shadow-Box Instructor Training Courses are the perfect way to enhance your personal skills – in undoubtedly one of the hottest trends of fitness. They enable you to educate your clients in an exciting and challenging style. Our courses are designed for everyone who has an interest in learning the fundamental techniques and principals of boxing.
Certificate In Performance And Implementation of Kettlebells
Personal trainers, fitness professionals and strength and conditioning specialist from all areas of the world are attending our Kettlebell Certification for Fitness Professionals to develop and master essential kettlebell exercises and skills and learn how to implement kettlebell training with other training options for complete overall development and success.
TRX Qualified Suspension Training
The TRX Suspension Trainer is the original, best-in-class workout system that leverages gravity and your bodyweight to perform hundreds of exercises. You're in control of how much you want to challenge yourself on each exercise – because you can simply adjust your body position to add or decrease resistance.
Vipr Certificate Qualifications
This load-balanced rubber bar bridges the gap between movement and strength training and delivers great functional results. It's no surprise that most elite sports teams and athletes rely on ViPR as a key part of their training programmes
Power Plate Fundamentals Qualification
The purpose of the Certified Master Trainer (CMT) Program is to provide the Master Trainer with relevant and consistent education that will establish a foundational knowledge base in order to effectively deliver Performance Health Systems education to the highest standard.
First Aid
First aid is the assistance given to any person suffering a sudden illness or injury, with care provided to preserve life, prevent the condition from worsening, and/or promote recovery. Should you need medical attention in any form, in the first instance, as a qualified first aider, Clayton can attend to you while calling for a professional medical practitioner if needed.